Michael Jordan and cryotherapy have become a discussion in the sports world. The Last Dance on Netflix and ESPN showcases how the 1997-1998 Chicago Bulls dynasty changed basketball forever. But the Bulls' legacy was not built on the Triangle Offense alone. The documentary revealed how important recovery is for an active lifestyle and especially for professional sports.

While very popular in Europe whole body cryotherapy was not a widely used method of recovery in the United States in the late 1990's. But Michael Jordan did use cryotherapy in the form of ice packs and ice baths. Seeing the Bulls on the sidelines with ice on their knees became a common sighting, and it worked. Players began icing their knees when not playing, and the benefits of reduced swelling showed. The Bulls today use whole body cryotherapy for the same effect. But it is also a benefit that has been shown to reduce athletic inflammation throughout a player's entire body.¹
Cryotherapy in the NBA today
Ice baths have become a thing of the past, primarily due to cryotherapy. Trainers and players no longer want to sit in tubs of ice water for 20 minutes. Whole Body Cryotherapy is easier and more effective than cold water immersion to treat muscle pain and muscle soreness. The evidence to support the use of cryotherapy in sports is growing and more researchers are studying ways to use cryo beneficially. Some professional coaches overseas have actually gone as far as stating that the lack of cryotherapy can promote injury for athletes.² Zion Williamson uses cryotherapy to help him maintain his edge and dominate the game. An ardent supporter of cryotherapy LeBron James spends over one million dollars per year on his recovery methods.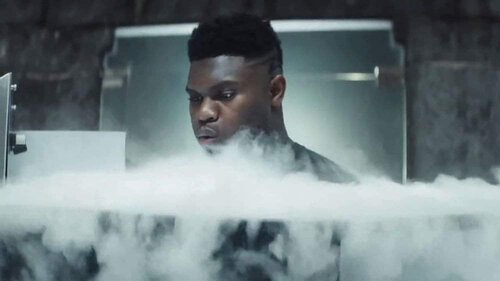 Cryotherapy for the Non-Athlete
Non-athletes can use cryotherapy for the same benefits as pro-athletes, and the overall benefits may be greater. Professional athletes are at a higher risk of injury due to their level of sport. But for the common athlete, or just someone who enjoys staying in shape, cryotherapy can have great benefits. This includes a higher metabolism and caloric burn (500-800 calories), reduced capacity to develop painful inflammation, and relief from painful muscles and delayed onset muscle soreness. Many with rheumatoid arthritis have used cryotherapy to help ease the pain as the cold temperatures can decrease inflammation.
Interested in learning more about buying a cryotherapy machine? Click here to see how easy it is (no email or registration required).
Are you curious about the science behind cryotherapy? Check out our list of peer-reviewed cryotherapy clinical studies.
Founded on facts: for peer-reviewed articles, scholarly journals, and articles cited above please see the below sources.
Professional tennis players who underwent moderate-intensity training and whole-body cryostimulation after the tournament season displayed a synergistic anti-inflammatory effect. http://media.wix.com/ugd/76b06d_4c8c2b7556506b5b11bc819758c716b7.pdf
The Guardian, July 15, 2020. English Premier League Aston Villa's manager has publicly voiced his concern that "players will continue to sustain significant injuries because they have been prevented from using cryotherapy to recover."
NOTICE: Information contained within this website and in all materials, communications, or presentations by Cryo Innovations and Cryo Recovery Lounge is for informational purposes only. Whole Body Cryotherapy, infrared sauna, hyperbaric chamber, and any and all recovery methods described and/or offered by Cryo Recovery Lounge or Cryo Innovations are neither designed nor advised for treatment or cure of any illness or disease. No cryotherapy chambers (including the XR) have been tested or approved by the FDA. Please consult with your medical professional before beginning any cryotherapy or recovery method. All material contained within this site is copyrighted and may not be reproduced in any form without prior written permission. All rights reserved. For permissions contact Cryo Innovations.